Andrew Bunnie Huang, är en av världens mest kända hårdvaruhackers, känd bland annat för att vara den person som hackade Xbox (och skrev en bok om det).

Bunnie
Ett av Andrews senaste kända projekt är att bygga en egen laptop. Laptopen är byggd runt en ARM A9-processor med fyra kärnor. Här är en bild på moderkortet som i dag kan boota upp Linux: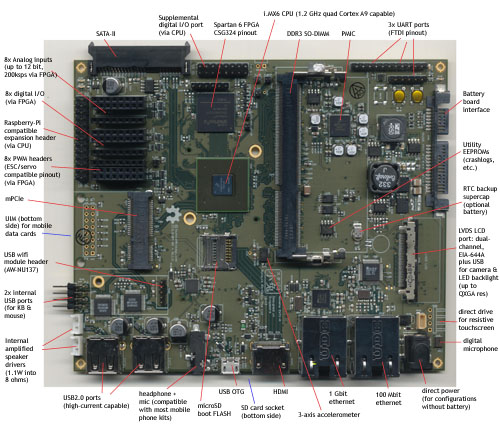 Moderkortet, men mååånga portar.
Förutom det man kan förvänta sig av stöd för hårddiskar, minne, tangentbord etc har Bunnies laptop en massa roliga saker som man inte brukar hitta i en vanlig laptop. Här är en lista:
mini PCI-express slot (for blob-free wifi, bluetooth, mobile data, etc.)
UIM slot for mPCIe mobile data cards
Dual-channel LVDS LCD connector (up to QXGA (2048×1536) @ 60Hz resolution) with USB2.0 side-channel for a display-side camera
Resistive touchscreen controller (note: captouch displays typically come with a controller)
1.1W, 8-ohm internal speaker connectors
2x USB2.0 internal connectors for keyboard and mouse/trackpad
Digital microphone
3-axis accelerometer
header for optional AW-NU137 wifi module

External ports:
HDMI
SD card reader
headphone + mic port (compatible with most mobile phone headsets, supports sensing in-line cable buttons)
2x USB 2.0 ports, supporting high-current (1.5A) device charging
1Gbit ethernet

"Fun" features:
100 Mbit ethernet — dual Ethernet capability allows laptop to be used as an in-line packet filter or router
USB OTG — enables laptop to spoof/fuzz ethernet, serial, etc. over USB via gadget interface to other USB hosts
Utility serial EEPROM — for storing crash logs and other bits of handy data
Spartan-6 CSG324-packaged FPGA — has several interfaces to the CPU, including a 2Gbit/s (peak) RAM-like bus — for your bitcoin mining needs. Or whatever else you might want to toss in an FPGA.
8x FPGA-driven 12-bit, 200ksps analog inputs
8x FPGA-driven digital I/O
8x FPGA-driven PWM headers, compatible with hobby ESC and PWM pinouts — enables direct interfacing with various RC motor/servo configurations & quad-copter controllers
Raspberry-Pi compatible expansion header
13x CPU-driven supplemental digital I/Os
3x internal UART ports
Att det sitter en hyggligt stor och kapabel FPGA kopplad direkt till CPU:n öppnar upp för massor med roliga möjligheter, inte bara att gräva efter Bitcoins.
Än så länge finns det inget skal, tangetbord eller skärm så laptopen är just nu ett kort på Bunnies labbord. Men projektet har väckt stor uppmärksamhet och det pratas om Crowdfunding för att ta fram det som behövs för att tillverka färdiga laptops. Och naturligtvis kommer Bunnie att släppa alla designdokument för sin design fri så om inte han själv tar fram en riktig laptop finns det möjligheter för andra att göra det.
Riktigt kul pryl, och inte minst för att labba på eller använda ute i fält för datainsamling skulle den här laptopen kunna vara riktigt, riktigt användbar. Jag vill ha en. Eller två.